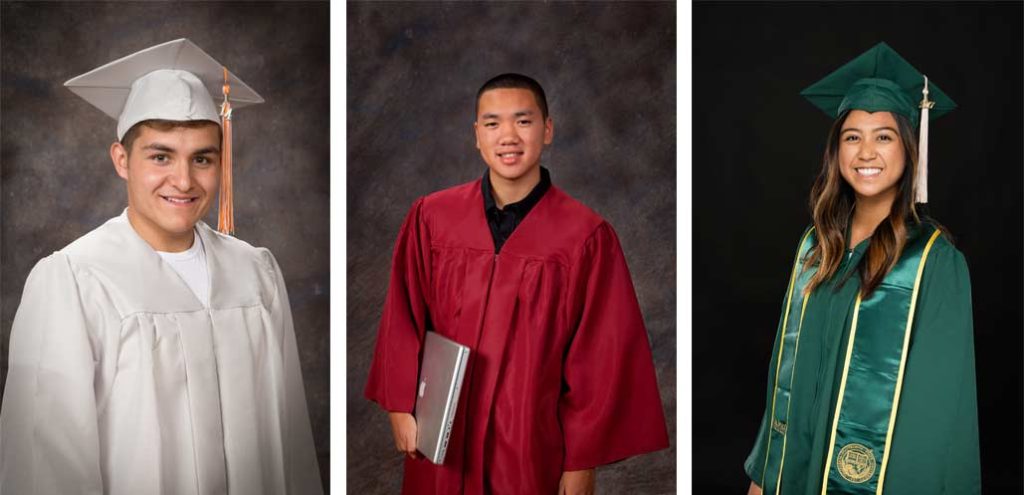 UPDATE: 5/11/2020 4:18pm
All 83 FREE Cap & Gown Sessions are booked up. We did just open up the following week for paid sessions with a huge discount!!
Use this button NOW to book a discounted PAID session. Thank you for your support!
BOOK A PAID CAP & GOWN SESSION (WITH A DISCOUNT)
FREE Cap & Gown Portrait Session for All 2020 Grads!
We want to give you a FREE Cap & Gown Photoshoot because these social distancing rules are stealing very special moments from your 2020 high school and college graduation ceremonies.
This hit home for us as our own daughter is set to graduate from college with honors. However, there will be no ceremony, no pomp and circumstance, no celebration, and no parties. Consequently, a local mom who's daughter is sad and depressed because she is missing out on her high school senior year and all the milestones that go with it.
WE ARE ALL IN THIS TOGETHER
Studio 101 West Photography is giving away FREE CAP & GOWN Photoshoots. These will be formal studio portraits in your cap & gown, or your choice of clothing, taken during the first week in June (assuming social distancing rules are lifted by then). There is no charge for the session time. You will also receive your choice of one free 8×10 or digital file.
Feel free to share this with those you know who don't get to walk across the graduation stage. Studio 101 West wants to celebrate their accomplishments.
Click the link below to reserve your FREE graduation portrait session time.
Schedule Your FREE Cap & Gown Appointment Now!
#INTHISTOGETHER
No purchase necessary. Additional ordering will be available. All we ask is that you show up for the appointment you book here or cancel at least one week in advance to allow others to have the same opportunity. You must be graduating high school or college in the spring of 2020 to book an appointment.
Studio 101 West is an approved photographer for San Luis Obispo County High Schools including San Luis Obispo High School, Templeton High School, Paso Robles High School, Atascadero High School, Mission Prep High School, and North County Christian School.