Senior Year Not What You Hoped it Would Be? How About a FREE Cap & Gown Photoshoot?!
BOOK A FREE CAP & GOWN PACKAGE NOW!
FREE Cap & Gown Photoshoot for All 2021 Grads!
Has COVID messed up your senior year in 2021? We want to make it a little bit better with a FREE Cap & Gown Photoshoot!
The big disappointment hit home for us last year when our daughter graduated from college with no ceremony, no tradition, no celebration, and no parties. What should have been a defining moment turned into major disappointment. So, last year we gave away over 80 FREE Cap & Gown Packages and had a blast doing it, so we are doing it again!
Reclaim YOUR Senior EXPERIENCE!
WHO CAN GET IT? Open to all San Luis Obispo county 2021 high school and college grads.
WHAT DO YOU GET? You get your own studio shoot in our Atascadero photography studio in your own graduation cap & gown. There is no charge for the session AND you will also receive your choice of one free 8×10 professional print or a digital file. Bring a classmate or two* for group shots too! There is no purchase necessary, but additional prints will be available that day at discounted prices.
WHEN CAN YOU GET IT? You can book it now with the link below. Free sessions will only be available the first week of June (1st – 7th) and can only be booked online using the link below or with the APPOINTMENT link on our website.
HOW DO YOU GET IT? Click the link below to reserve your FREE graduation portrait session time. This offer is only for sessions booked June 1-7 and last year they were all gone in just a few days, so don't wait. Your free print or digital file will be available for pickup (or online if digital) within 3 weeks of your session.
Feel free to share this with those you know who won't get a traditional graduation. Studio 101 West wants to celebrate their accomplishments.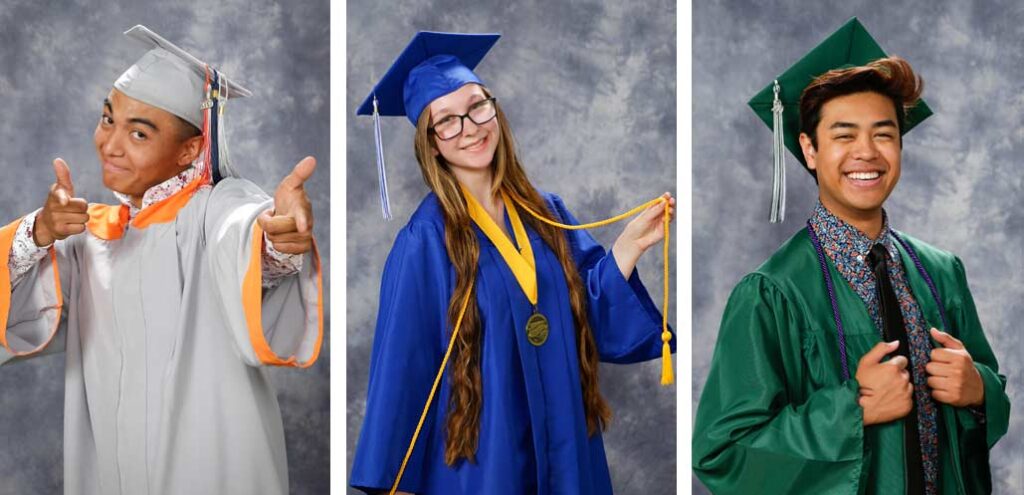 BOOK A FREE CAP & GOWN PACKAGE NOW!
#INTHISTOGETHER
No purchase necessary. All we ask is that you show up for the appointment or cancel at least one week in advance to allow others to have the same opportunity. You must be graduating high school or college in the spring of 2021 to qualify for this offer.
*Classmates wanting their own session to get a free 8×10 should also book a session time.
Studio 101 West is an approved photographer for San Luis Obispo County High Schools including San Luis Obispo High School, Templeton High School, Paso Robles High School, Atascadero High School, Mission Prep High School, and North County Christian School.