Studio 101 West Photography
If you couldn't tell by our work, we love photography and we love people. We love meeting new people and getting to know them. If we don't make some kind of connection with you during or before a photo shoot we haven't completely done our job. Fortunately, Dennis has been doing this for so long that getting people to relax and be themselves in front of the camera is second nature to him.
Studio 101 West serves many types of clientèle from fun and energetic high school seniors to business executives, to families with wiggly kids. We've built our business around them and wouldn't want it any other way. When we aren't shooting people (with the camera, that is) Dennis enjoys shooting architecture and photography for businesses, and works hard to keep us current in new trends and technology. We are a dynamic studio with clients all over the nation, but proudly serve our local community here on the Central Coast of California.
Family owned and operated since 1988, we've raised two wonderful kids and have maintained a healthy marriage to boot. Based in San Luis Obispo County, California, we travel world-wide as well as nationally, however we are so in love with the central coast and relish the fact that we don't need to go far for a photographic adventure.
Our business is about real people and making them look and feel their best. When you choose Studio 101 West as your portrait photographer, you'll not only get beautiful portraits, but you'll contribute back to our local community which we are highly involved in.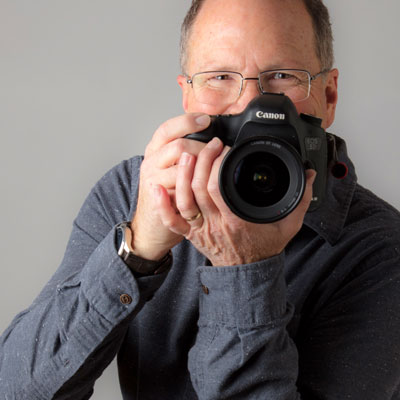 Dennis Swanson, Photographer
As a portrait photographer it's my personal goal to create photographs that show the world a little bit about who you are. . . that certain smile or look that your friends and family recognize as the real you. After 25 years of creating thousands upon thousands of family, business, and high school senior portraits, I have a developed a combination of technical abilities and a relaxed, intuitive style that help my photo-sessions be fun and exciting. Still, I strive to push myself by learning and trying new techniques which help me further refine my skills as an artist.
When it comes to portraits I have done it all, (well, I don't do nudes so I guess I've almost done it all) from beautiful artistic portraits which hang on your wall, to business portraits for companies like Intel, Sports Illustrated, and Westways Magazine. I have a BA degree in photography from Brooks Institute, but my love of photography started when I was 12 and my mother gave me my first camera just before a family trip to Hawaii. Ever since then I've had a intense interest in creating photographs that people enjoy. I feel truly blessed to be a full-time professional photographer for over 25 years now.

I look forward to the future of photography and I'm always looking for new ways to keep my creative abilities fresh and alive. I haven't been to Hawaii lately but frequent vacations and awesome central coast locations are still a great source of my inspiration.

Whatever you do, work at it with all your heart, as working for the Lord, not for men. - Colossians 3:23
happy customers
Dennis, We received Misha's pictures last week and words cannot describe how pleased I am! From the moment I viewed the proofs, I was amazed at the variety of backdrops captured in just one evening of a photo shoot! You were able to capture Misha as her true self - comfortable and natural. This is a true feat as my daughter is not always comfortable behind the lens. Your patience and understanding through out the photo shoot was exceptional. Everyone who has seen the pictures are so impressed - so it's not just my parental biased opinion after all!Sande Zamarripa, Fresno, CA
Dennis, Thank you Studio 101 for the beautiful senior portraits of my daughter. They are stunning and unique. Everyone who sees them can't stop saying how beautiful she looks in them and that you really captured her personality. Also, thank you for the photo shoot at the Mission. It was a great idea for Kailey and her best friend to do their photo shoots together so that they could have a ton of fun. You really brought out the best in them and we are grateful to you for such a gift. Peggy Gray, Newhall, CA
Thank you for all your hard work! As you can see, it paid off. Our 50th anniversary book turned out beautifully. Eileen S. Sacramento, CA
Thank you so much. Our wall portraits turned out beautiful. They look gorgeous on my wall. Thank you again. Melissa
Dennis, Our photo session at my sister's house turned out beautiful! Thanks again for a wonderful photo session - you do amazing work! Kristi, Ladera Ranch, CA
Thanks again, your work is so amazing. The photos look GREAT!!!Erica Jacobson, Wilson & Co. Sotheby's Intl' Realty
Deborah and Dennis, I wanted to let you know how very pleased with our Family Photos. You folks do outstanding work. God Bless. Brad Davis, Atascadero, CA
We got our graduation announcements today. You did such a fabulous job! Love how they turned out! Thanks Dennis. Annette, Templeton, CA
Dennis, Thank you so much for our daughter's senior graduation portraits. You really captured the twinkle in her eyes. Chad, Atascadero, CA
Dennis and Deborah, Everything looks amazing! I am thrilled that God allowed for each of you to have the time to work on Martins CD packaging. Dennis you captured the feeling and atmosphere that I had in my head from the inception of the project perfectly. Your photos are beautiful. Thank you for your attention to my vision and your amazing eye for detail. Roxanne Paris, Martin Paris Band, Templeton, CA
We love the guys at Studio 101 West. Not only do they take great photographs, but they were fun and I enjoyed talking with them and laughing. They are all around nice, genuine, great guys, in addition to amazing photographers. We love Studio 101 West!!!!! Claire and Alex, Fresno, CA