We enjoyed our photo shoot at Tap It Brewing in San Luis Obispo last Friday night. Thanks to all the good folks at Promega Biosciences that showed up, as well as our many other fine looking models. Also Jim, our art director, from HarvestMoon Presents did an awesome job making sure no one went thirsty. Tap It Brewing just celebrated their 5 year anniversary and in that short time have made quite a mark on the local craft beer market. They now carry six tasty varieties and will be releasing two new brews in the coming weeks.
Tap It Brewing's unique tasting room has an eclectic feel and a clear view to the always active brewery (in the background). While enjoying one of their many brews you can watch the brewing process and bottling machines in action.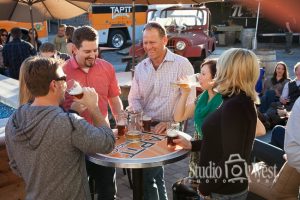 The outdoor patio area offers a unique and colorful fire pit bar, stage area, and interesting decor – which includes an old Jeep with cactus growing inside and a fire truck.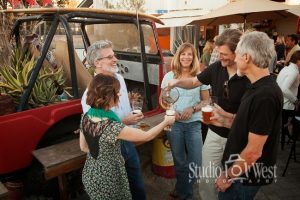 There are also several cozy sofa areas to relax in.
To view more of our commercial or lifestyle photography visit our website at: Studio 101 West or give us a call to get a free quote for your next job at 805/460-6300.